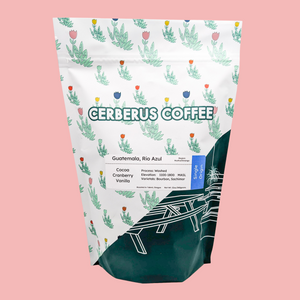 Cerberus Coffee
Guatemala, Rio Azul
Regular price
$18.00
$0.00
Unit price
per
Cooperative Río Azul started in 1977 as part of the larger Cooperative Fedecocagua, a cooperative comprised of many small farmers in Huehuetenango who transported their coffee to the city to be exported.
In 2001, Cooperative Río Azul developed itself as an independent entity.
Before forming the cooperative, their main crops were beans and corn. Now, with technical and financial assistance gained as a cooperative, they cultivate traditional and organic coffee as their main exportable crop. Through the support of other organizations, Río Azul now has a mill, drying patios, and a storage warehouse.
We love this coffee for its cocoa backbone with lingering notes of cranberry and vanilla.
Varietal: Bourbon & Sachimor
Elevation: 1100-1800 MASL
Roast Level: Medium
---